EVABot
The NLP & ML-Powered HCM Conversational Assistant
EVABot integrates directly into your existing HR tech stack, to build context around the information in your database. EVABot utilises this knowledge to automate meaningful, personalised and ML-optimised conversations at scale.
Start a Conversation One bot, multi-capabilities
Manage and automate all HCM conversation workflows from EVA.

Roles and permission specifications + microservice architecture give EVABot the context to define user segments, funnel stakeholders through pre-defined workflows, automate processes and combine system functionalities through powerful APIs.
EVABot leverages this capability to deliver personalised conversations across social channels, internal mobility systems, talent communities, websites and SMS at scale.
Automation first framework
EVABot is domain-trained to understand HCM vocabulary and is preconfigured with flexible talking-point (targets), that function as the building blocks for facilitating a conversational user journey.

During a conversation, EVABot uses queues and provides the user with options to achieve these targets. Clients have full control of EVABot and can modify 'targets' and the overarching conversational structure manually or using AI & ML.
Conversational AI
EVABot leverages machine learning (ML) and natural language processing (NLP) contextualise human language and determine the best way to handle and respond to user input.
Natural Language Processing
EVABot breaks down sentences at the root level, by understanding the quirks of human language and acknowledging there is information or an intent to be parsed.
Machine Learning
EVABot utilises machine learning to learn from human language. The system remembers utterances, analyses them and delivers more accurate responses the more it is used.
Engagement, at scale
---
EVABot automates the process of engagement, allowing you to customise questions, tone-of-voice, workflows, launch re-engagement campaigns, build skills lists and more, so that you're always in control.
No code platform
Build bot conversations based on 'targets' preconfigured for the HCM domain without writing a line of code. Simply drag and drop each node into the dialogue window and automate meaningful engagement scenarios.
Powerful rephrasing
EVABot powers dynamic conversations that optimise meaningful engagement. Within the HCM portal agents can define multiple utterances to achieve a specific target. EVABot randomises each of these intents (A/B) testing and learns to use the best performing sequence.
Custom targets
Should a conversational target not be available in EVA's HCM knowledge graph, teams can commission for this skill to be developed and deployed on their client-server, with specifications of its functionality and end-results adhered to during the build.
Error Management
EVABot is designed to automate end-to-end conversational workflows. Should there be an issue in the process, agents are immediately notified and can pause the bot to resolve the problem, and press play on EVABot, once the issue been dealt with.
Flexible Integrations
EVABot is engineered at enterprise-standard and is built scale. Integrate EVABot to work alongside your other applications and internal or external databases, legacy tech stacks and practically any LOB systems.
Enterprise-grade security
EVABot allows admin users to define security parameters for EVABot based on the requirements. These span across five different use-cases: user authentication, user authorisations, multi-factor authentication, one-time authorisation and channel authorisation.
A conversation is a catalyst for innovation
EVABot is engineered to establish processes, build trust and nurture meaningful relationships by purposefully engaging with every stakeholder at every touchpoint.
Personalise. Automate. Scale.
EVABot plugs into EVA's contextual knowledge of all logical layers of the HR function and previously disparate systems to drive conversations with every stakeholder.
This gives EVABot the capacity to autonomously processes and manages individual user requests to facilitate personalised user-experiences in real-time and at scale.
Seamless and target-driven conversations
EVABot's NLP capability allows for the analysis of user requests in real-time and automates the next-step action accordingly.
The powerful layer-on combination of NLU and goal-based engineering allows for the analysis of unstructured user responses and prompts EVABot on how to handle the situation to keep the user on track.
Reduce churn. Optimise interactions.
EVABot's integrated ML workflow algorithm determines the best sequences and sentence structures that increase conversion rates and reduce churn in a conversation and allow for the A/B testing of conversation workflows.
EVABot tailors every interaction to adapt to the "best flow of conversation algorithm" – be it an overarching conversation structure or the best way to phrase a question.
A consistent brand voice
A self-serve panel within the agent interface allows teams to rephrase EVABot questions or responses in real-time without the need of a bot developer.
The ability to optimise each dialogue node within an interaction ensures that every conversation with every stakeholder, down to each word, follows your company's brand guideline and the your EVP remains consistent at every brand touchpoint.
GDPR processing and management
EVABot supports all GDPR related requests, including full data extraction and GDPR process requests. EVABot can collect, track and update user content, give on-demand access to a privacy policy page and facilitate compliance-related conversations with the end-user.
How EVABot plugs into HR 4.0
EVABot implemented alongside EVA's HR 4.0 solutions suite, empowers HCM function through conversational automation.

EVABot offers people functions and the wider organisation the opportunity to collect, understand, augment and implement opportunities for business growth, by facilitating multiple experience-driven conversations.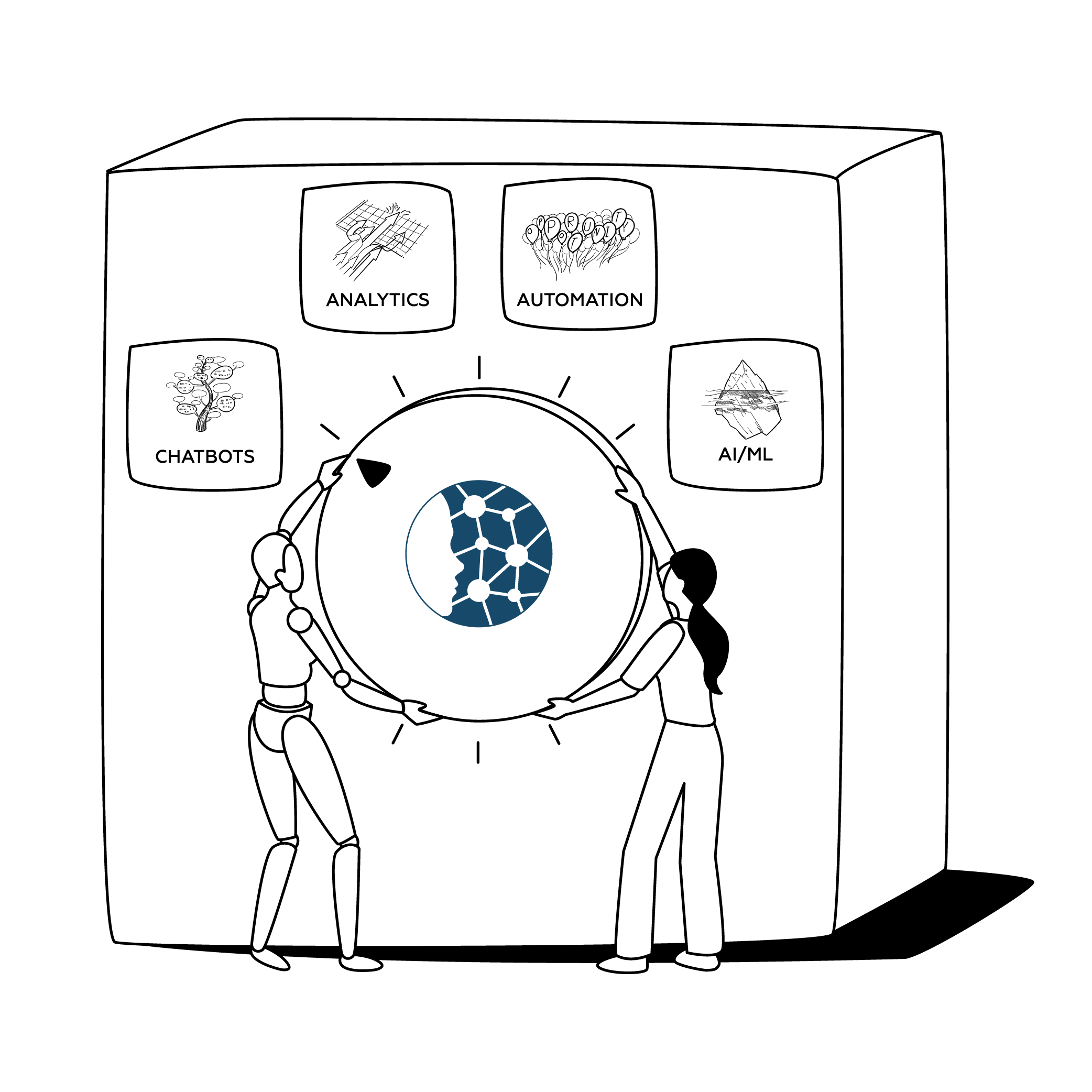 How we bring it all together