AI & Machine Learning
Optimise your organisation with AI
EVA's approach to deploying AI across HCM use-cases considers the unique needs of the business. It leverages its historical data to generate optimal results across the entire value chain.
Start a Conversation Future-proof your competitive advantage.
EVA's HR 4.0 approach to machine learning utilises enterprise-wide data versus information trapped in disparate data silos. As a result, EVA drives optimal outcomes across the HR value chain.
EVA's AI integrates seamlessly into enterprise systems and gets smarter as it's used over time – enabling businesses to scale and adapt their business models in real-time without needing to dismantle legacy systems.
Always be sure of your next step
Join EVA's HR 4.0 revolution to enhance your planning, understand your stakeholders and respond dynamically to everyday challenges using machine learning.
The value proposition is simple – Implement a holistic view of your organisation, leveraging data from your entire value chain, to enable smarter agile decision-making and drive business growth. Input = Output.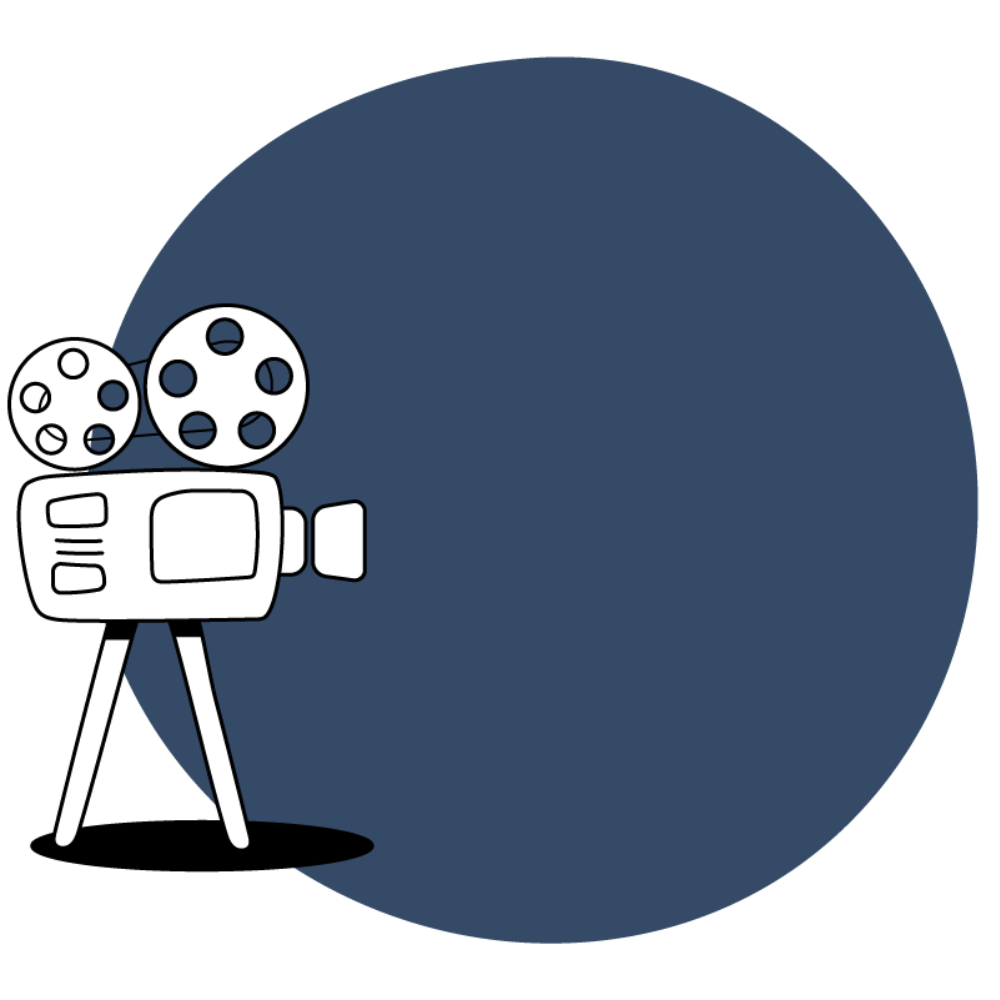 AI & ML is set to become the expectation, not the exception, in HCM
---
The digital revolution is a human revolution. While cognitive technologies are what's driving Industry 4.0, ultimately, it is people who will bring it to life in businesses.
Recommender Algorithms
Harnessing the power of insights from algorithmic recommendations is the most important differentiator between 'digital' and legacy companies. EVA's configurable recommend HCM algorithms function as a renewable resource that relentlessly improve stakeholder insights to drive business growth.
Eliminate subconscious bias
As a company we believe that ML algorithms should not include data that is inherently biased including age, gender, nationality and or subjective data available in your database. This promise extends to EVA's capacity to add randomised suggestions within results, that are assessed against reinforcement models.
Capture Intangible Insights
Successful companies utilise domain knowledge, the intricacies of which are accumulated from years of experience. However perspective is subjective. EVA helps organisations capture, harness and implement best practice decision-making by analysing all variables that affect the outcome of a decision – good or bad.
Continuous Optimisation
EVA's AI & ML workflows can be added as a layer-on of every technology or solution within our HR 4.0 suite thanks to our microservices architecture. This means EVA can self-optimise to determine the best behavioural algorithms or recommended sentence structures to increase conversion rates and reduce churn across the automation use-case.
Personalise experiences
EVA's AI& ML algorithms power a scalable and data-driven schema that drive unique experiences for individual users. This powerful capability seamlessly combines collaborative filters, sequence aware recommenders, classifiers and reinforcement models. For organisations this provides robust strategies that increase user engagement and drive loyalty.
Strategic decision making
KPIs traditionally have had a retrospective, reporting bias, EVA algorithms surface hidden variables that anticipate "key performance". Thus, making KPIs more predictive and prescriptive. With HR 4.0, managers and leaders leverage forward-looking KPI's that utilise strategic measures as training models that optimise business processes.
Supercharge your data, leapfrog your competitors
Wherever you are on your AI journey, EVA helps optimise service delivery across the value chain. Our team consult with you, as you deploy scalable algorithms specific to your unique use-case, utilising one or a combination of industry-leading machine learning techniques.
Unsupervised machine learning (UML)
Unsupervised machine learning helps explore big data, to find hidden patterns or underlying correlations in the dataset. For example, in trying to increase employee engagement, EVA deploys a UML algorithm across central themes in employee feedback, to unearth correlations, discrepancies and insight.
Supervised Machine Learning (SML)
The EVA-Supervised approach instructs the algorithm on what pattern to look for and where. For instance in attempting to predict a best fit candidate to job fit algorithm, one may consider (work experience, personality traits and/or assessment testing scores). The model is fed these individual variables and trained against your historical placement data to find a best fit algorithm to determine their weighted importance.
Reinforced Machine Learning (RML)
Reinforcement learning is similar in principle to a Pavlov's dog experiment. In this model, algorithms learn from real-time effects in decision-making processes. It reinforces positive responses and learns from negative ones – every facet of the decision-making process feeds an always-on algorithm that continously adapts, learns and improves.
Secure and Scalable infrastructure
Every client solution fully complies with best-in-class security protocols, including role-based access and data encryption per server. We assign each client an individual tenant that securely houses their data and manages the deployment of their instances.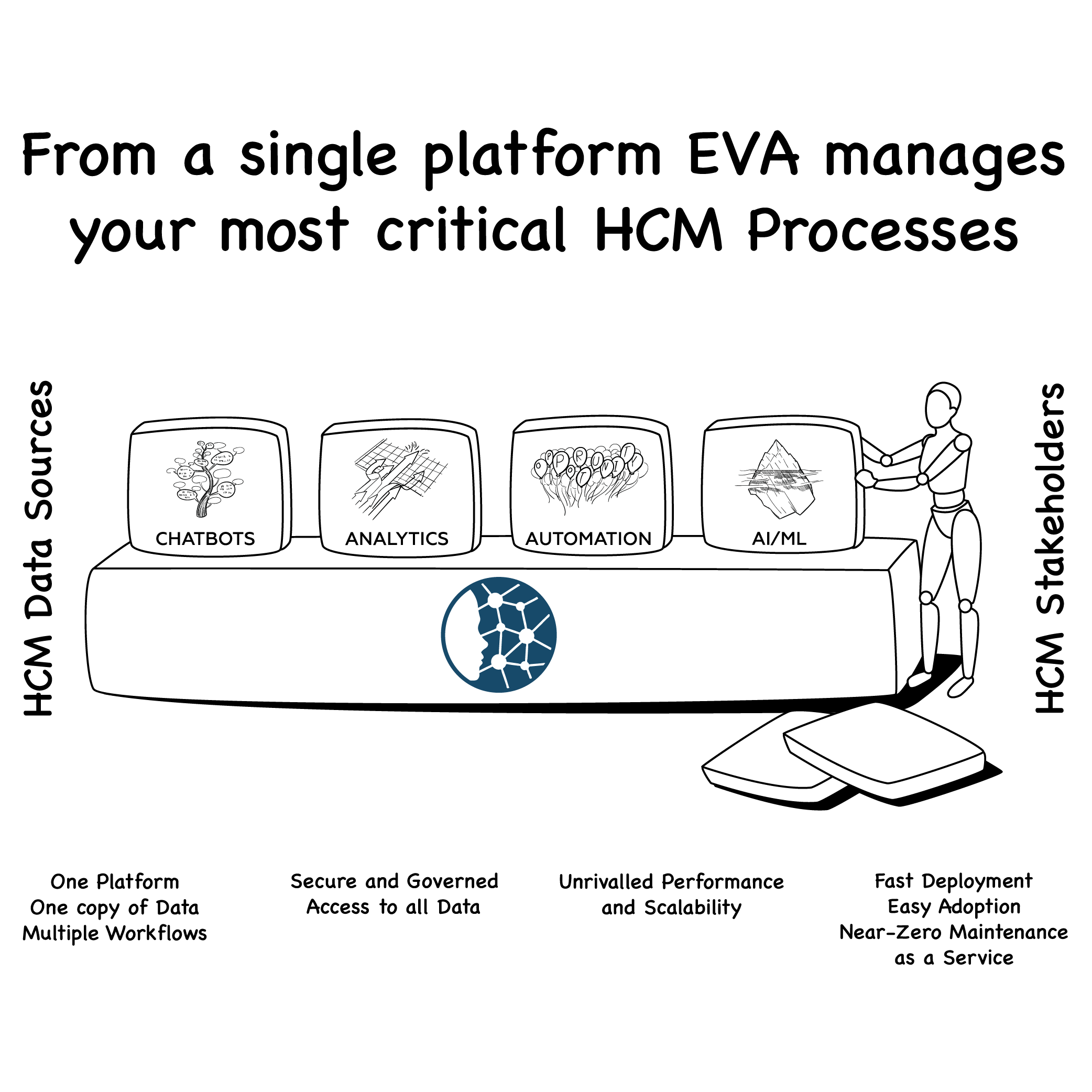 How AI & ML drive HR 4.0
Utilising EVA's AI & Machine learning modules organisations can extract an enormous amount of meaningful insights from their unstructured HCM big data.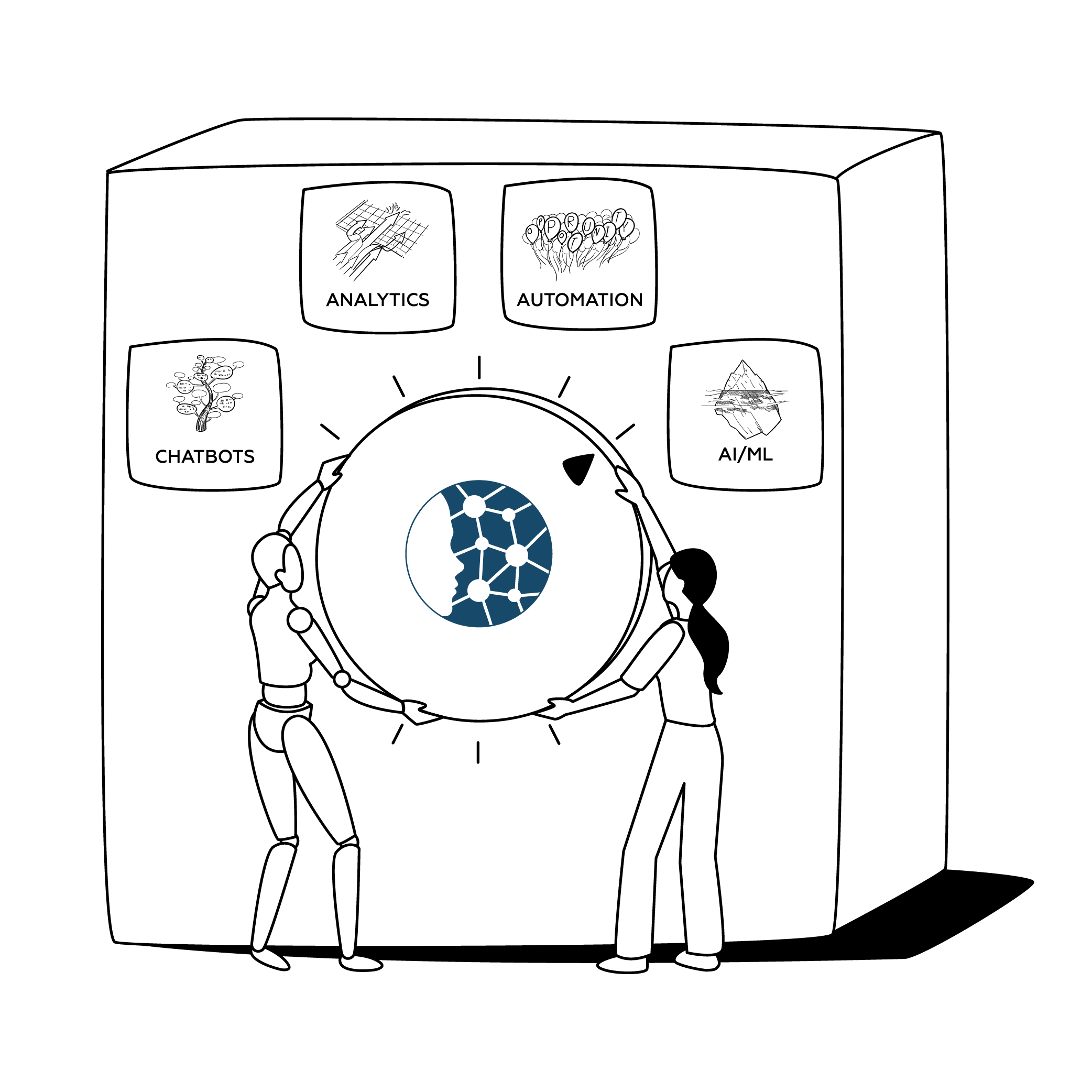 Explore our product stack